PATIENT EXPERIENCE (PREMs)
Measure, improve and enhance the quality of care.
Our automated collection and analysis platform integrates with your existing information systems to measure quality of care and patient outcomes effortlessly.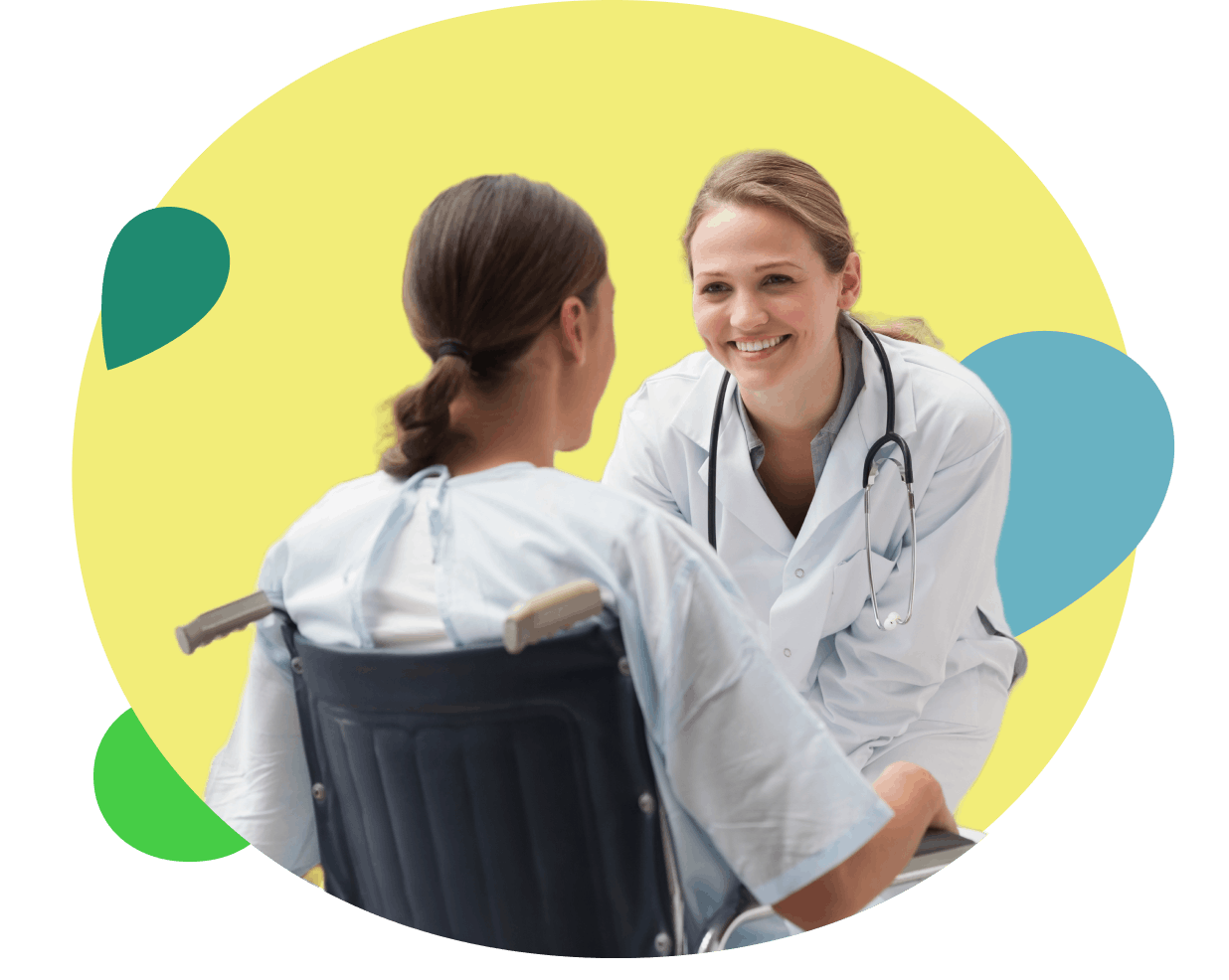 DATA COLLECTION
Create smart questionnaires, quickly.
Our modern and user-friendly questionnaire tool allows you to ask the right questions, without any friction.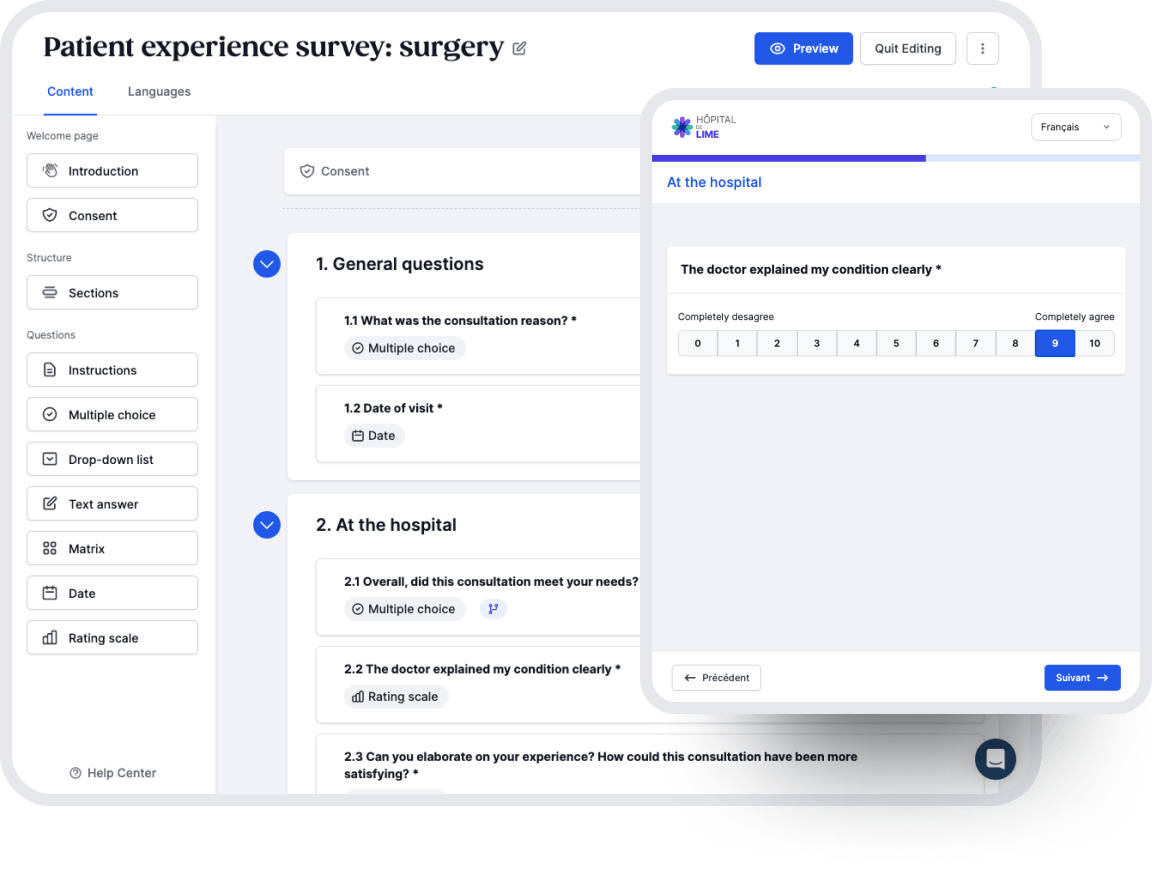 Question options
Add consent, sections, Likert scales, multiple-choice questions, open-ended questions, matrices and more.
Conditional logic
Create an engaging questionnaire by asking the relevant questions based on the answers provided earlier.

Translations
Allow your respondents to complete the questionnaire in the language of their choice.

White label
Showcase your brand by adding your logo and customizing your email and SMS communications.
INTEROPERABILITY
Automate the delivery of content to patients.
Connect your systems and electronic patient records. Create automatic triggers that deliver the right questionnaires to the right patients at the right time. Discover the possibilities of sending by care pathway, department, hospital, procedure, clinic and more.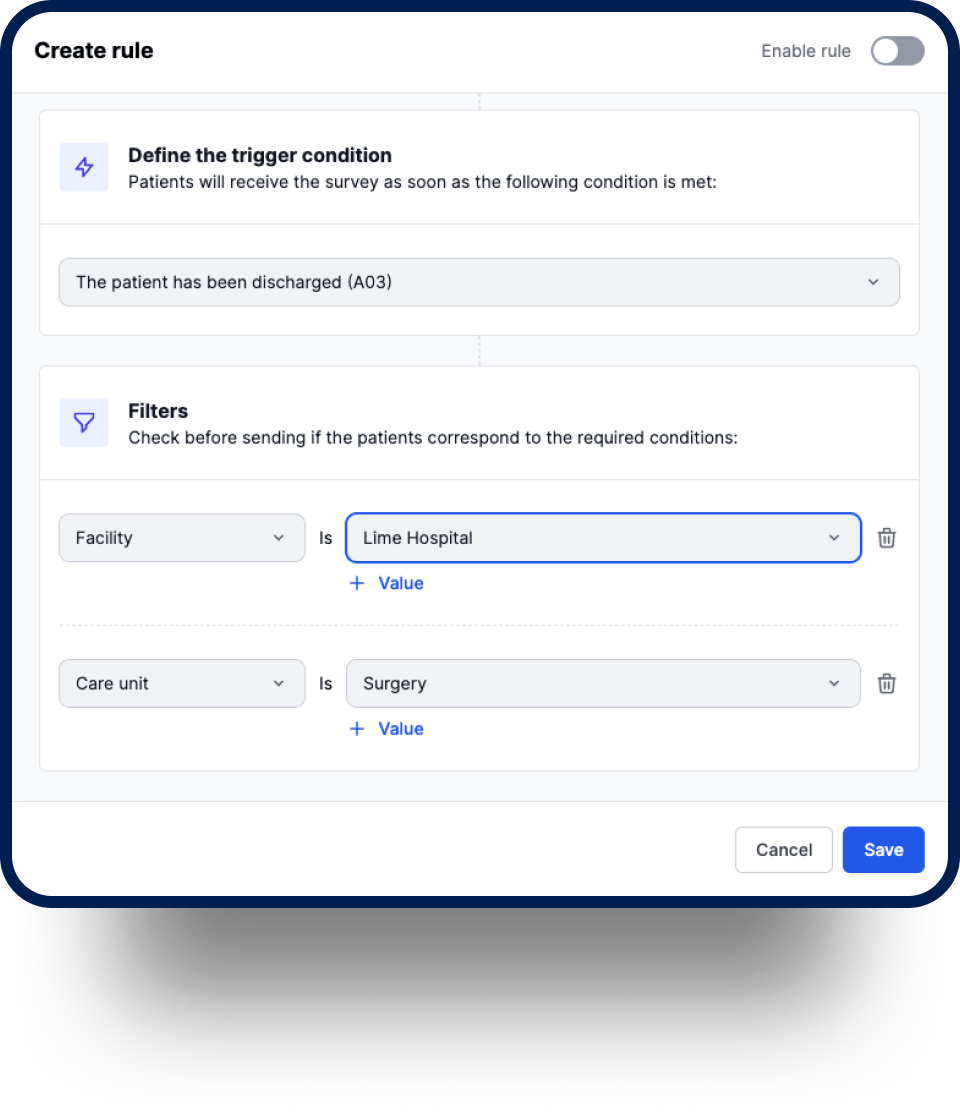 OMNICHANNEL
Reach your respondents, where they are.
Optimize your response rates and turnaround times by using transmission methods adapted to your customers: SMS, email, QR code or shareable links.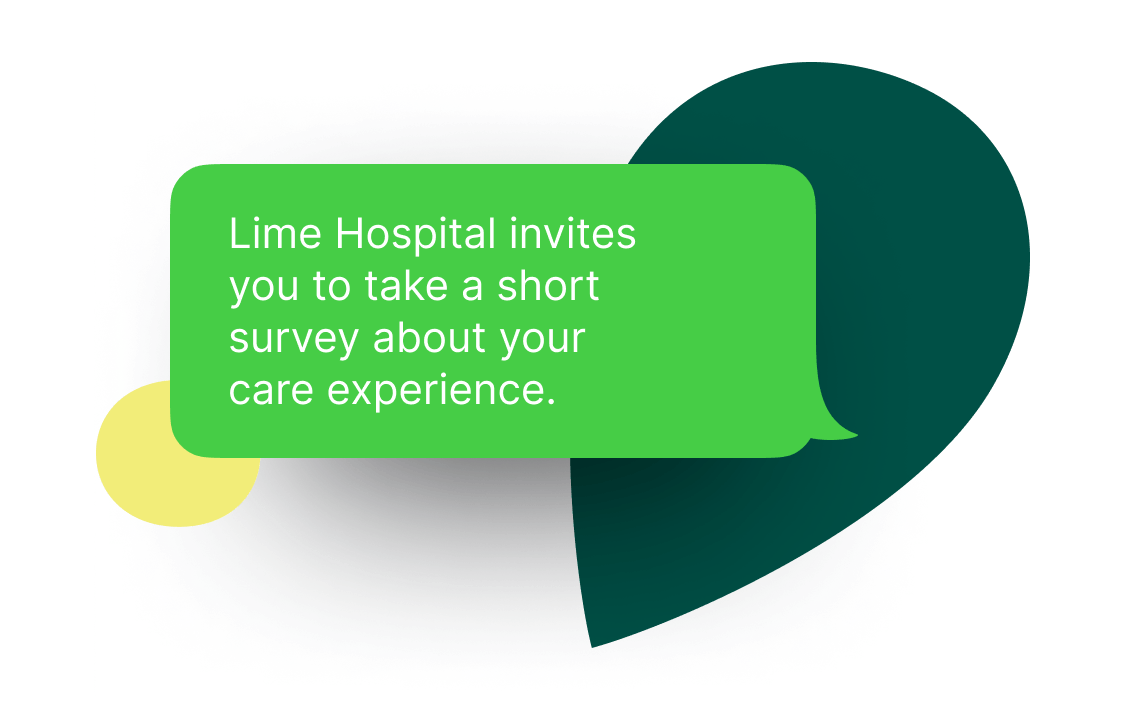 SMS and email
Automatically send SMS or email messages to receive responses quickly.

Reminders
Increase your response rates by re-engaging with respondents who did not complete the questionnaire.

Accessibility
Respondents can access questionnaires on all types of mobile and desktop devices.

QR codes
Collect answers easily with unique QR code generated for each questionnaire.
ANALYSIS AND REPORTS
Make the most of your data in real time.
Easily identify opportunities for improvement and gaps using response analysis and questionnaire performance data. Take action quickly with real-time data access for your various teams.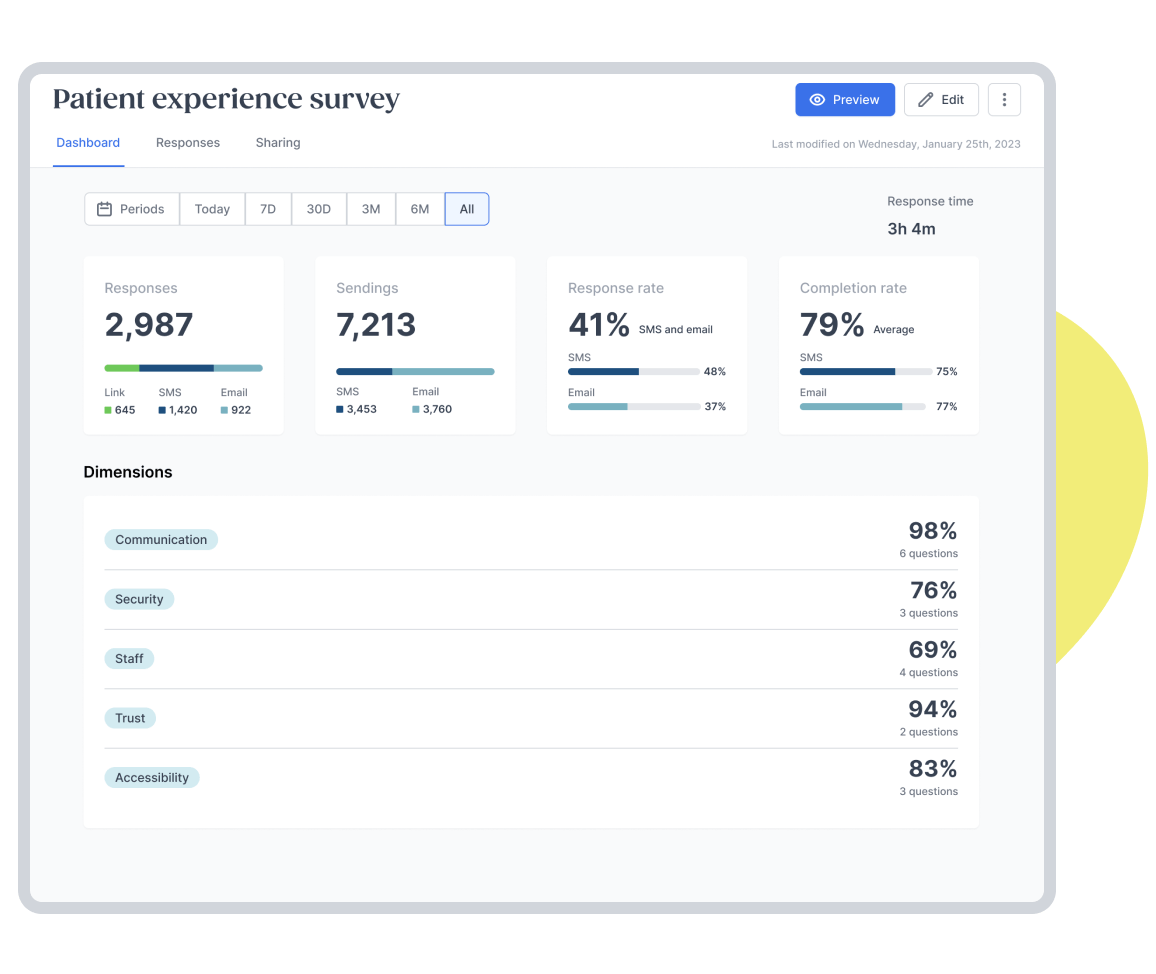 Statistical analysis
Evaluate the impact of each metric with advanced analytics: median, average, abandonment by question and more.

Dimensions
Group the questions by theme and compare the scores of the dimensions of each questionnaire.

PowerBI connector
Export, cross-reference and analyze data in depth with our PowerBI connector.

Dashboards
Collaborate as a team by providing access to relevant dashboards for each user.
ASSISTED DATA ANALYSIS (BETA)
Discover opportunities, gaps and trends.
Give your teams the facts with our automated interpretation module powered by Artificial Intelligence that speeds up the analysis of the patient experience.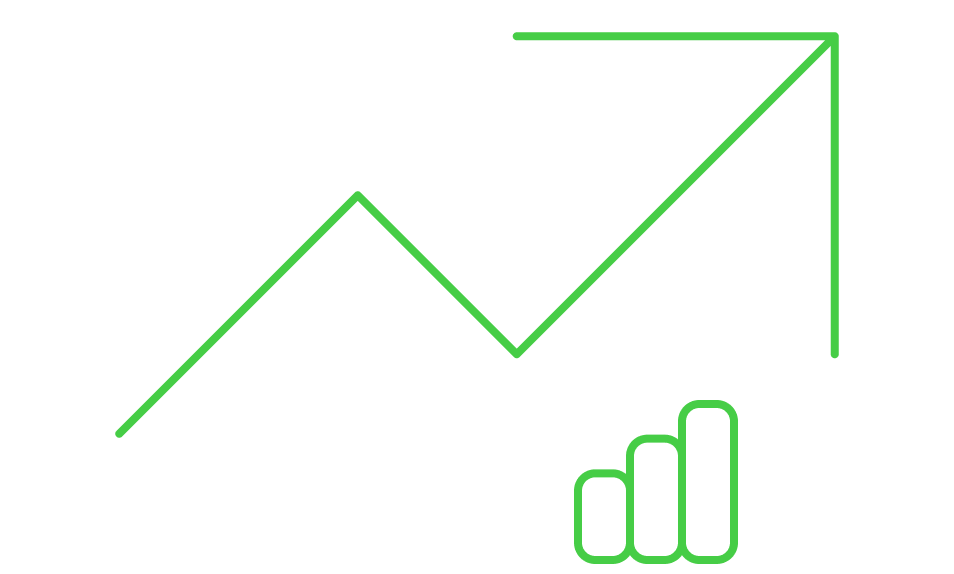 INTEGRATED ENVIRONMENT
Join us, without changing everything end to end.
In addition to clinical and hospital information systems, our platform easily integrates with your existing tools and processes: Microsoft Azure AD Single Sign-On, Microsoft Teams, Microsoft PowerBI connector, Excel exports and more.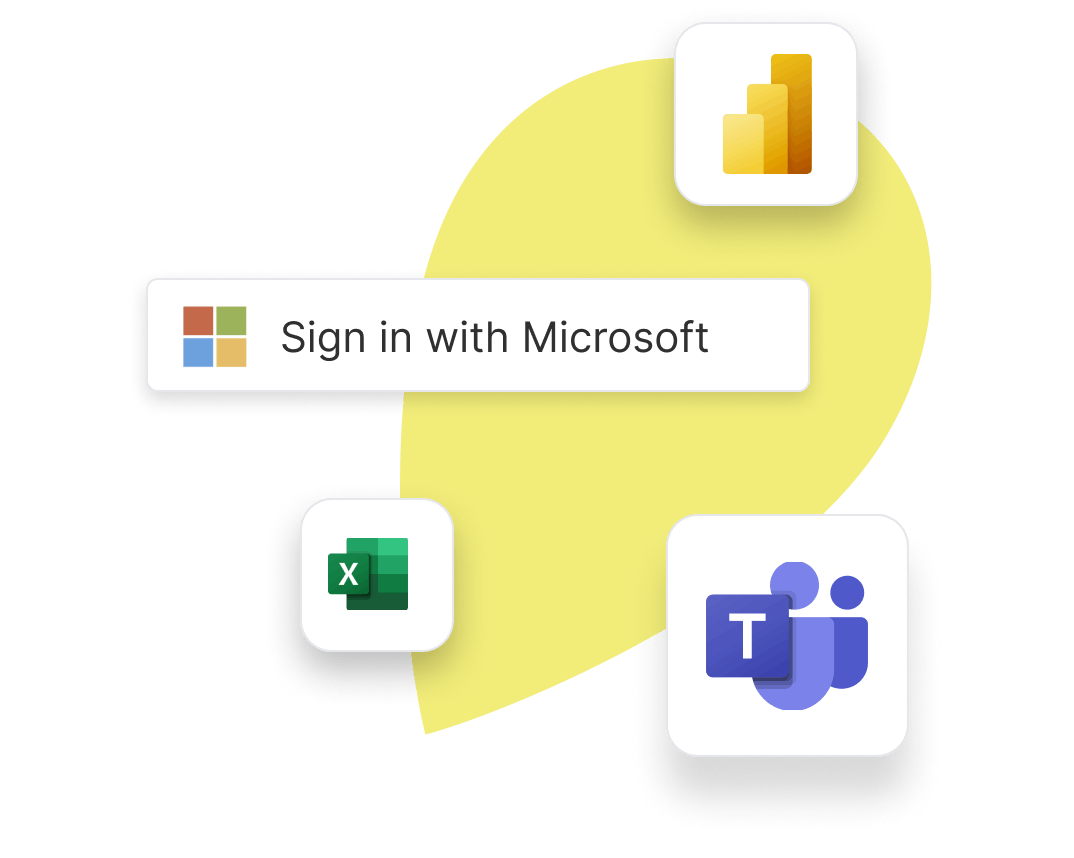 Security and privacy
Security and privacy core to our operations.
Trust, security and privacy are Lime's priorities. Nothing is left to chance in order to protect your data during its entire life cycle.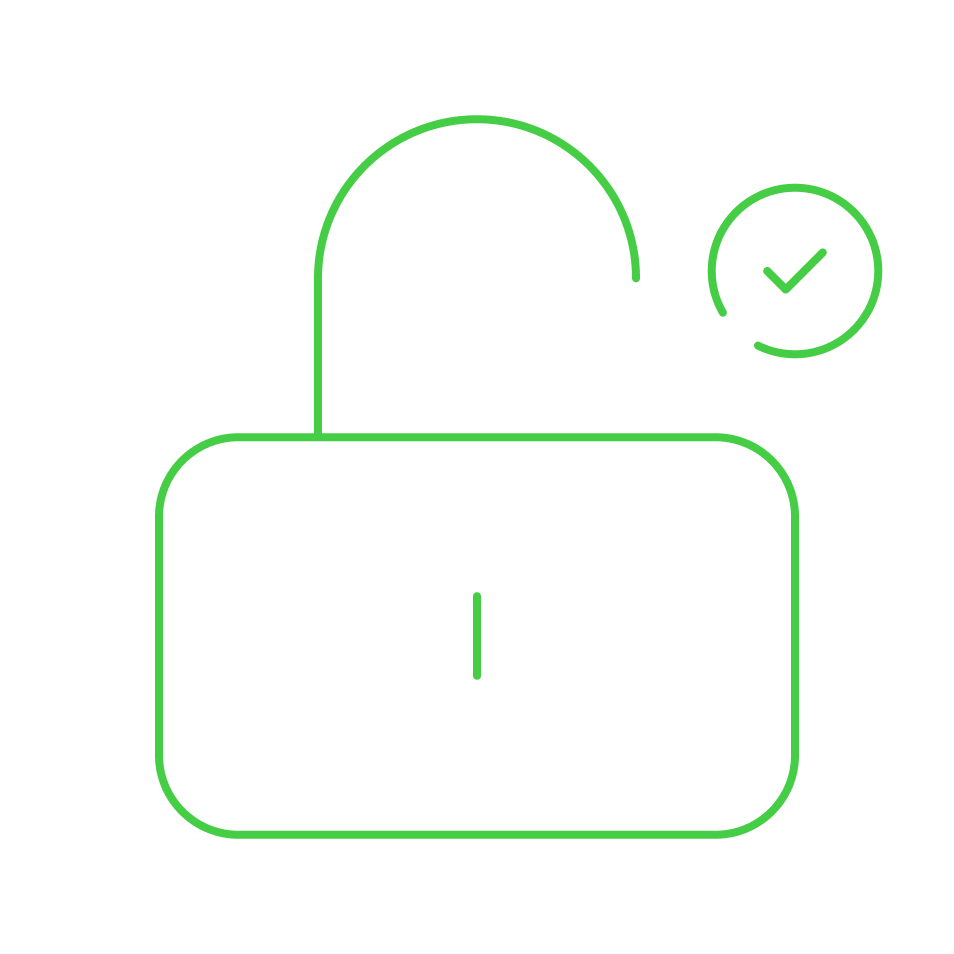 Engaging results for teams and patients
28%
Average response rate by email and SMS
35%
Average response rate per SMS
8h
Average response time per SMS
40%
More answers with Lime reminders
Make Lime your integrated patient experience management platform